no...r u the one who told me about it? I don't have HBO anymore, because of the economy, lol, or my new TAG Heuer Carrera Chronograph Automatic, ok, the economy AND my inability to quash my impusle to get a new watch, though I will say I ended up saving $2500 since I returned the Grand Carrera in favor of the simple Carrera--retail at $3200 for the Carrera versus $5700 for the GC. I got the Carrera for $2600 less $1100 they gave me for my Aquaracer, so I spent a total of $1500 for it, which I can sleep with opposed to the $4300 expenditure I would've been stuck with had I kept to the Grand Carrera purchase I made earlier (they aren't coming down on prices for that watch really at all, only cut $300 off it for me, and I have a relationship with them, well I think I do anyway, lol). And to be honest, I like the Carrera better--the GC is a bit too big dialed--almost looks like something, sizewise but not stylewise, some stupid flatbilled MTV victim would wear, what do you think?
Grand Carrera:
Carrera: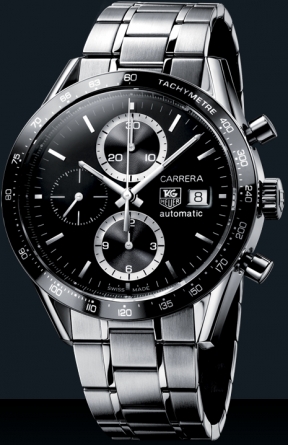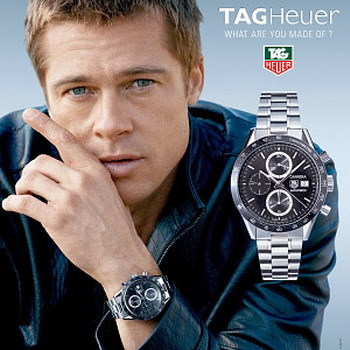 and here it is featured on the wrist of Bradley Pitt, who is colored basically like me, so this is pretty much almost as great-looking ast it looks on me, but not quite
Anwway, the Carrera is a chrono that's laid out pretty much identically to my Aquaracer,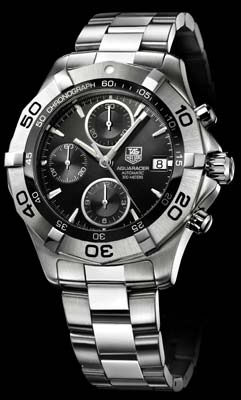 only instead of silver lined chrono dials, the Carrera is white, which stands out better as they are thicker, and the bezel is black like the face, which better represents the diameter of the dial as both watches are 41mm.
And the awesome part to all this is that I got my Aquaracer right before TAG raised their prices across the board. When I got it, it retailed for $1999. I paid $1500. Today the very same watch retails for $2600. So, really, I had it for, I dunno a year and a half and only lost $400 in its value b/c of their price hike, lol. Anyway, so I have two solid TAGs now---since I'd feel like a tool if I wore my orange F1 TAG all the time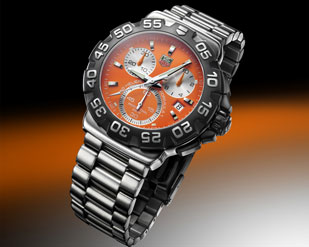 ,
which I love this watch since it's so different and unlike pretty much anything else out there, and plus it's quartz movement whereas my Carrera (and the old Aquaracer of mine) are both automatic (self-winding, nonbattery) watches which means the watch is big vertically, and sometimes the bulk is undesirable on my wrist, which contains blood that I've never dreamed woudl be sucked by any of the Trueblood cast since I've not seen an episode, since I cancelled HBO as part of my cost-cutting to help me counter my somewhat whimsical spending on watches.
So I'd rather have my orange TAG and the Carrera than see Trueblood, I guess is what I'm trying to say, but I'm also wondering if I made the right move from Aquaracer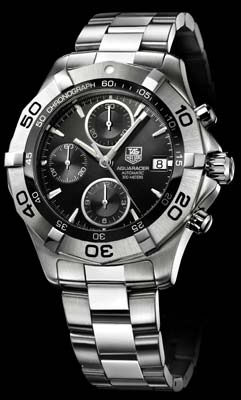 to Carrera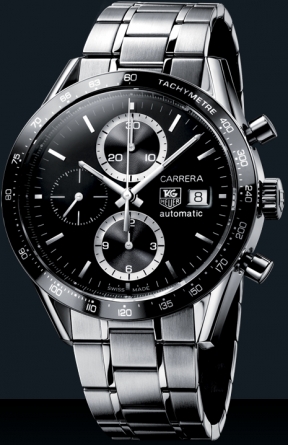 what do you think? The Carrera hasn't got the crazy depth of water resistance than the Aquaracer has, which is 300meters, which is 1000 feet, but I figure, well, really, i'm not a diver or anything, and so, if I find myself anywhere near 1000 feet under water then something's gone terribly wrong and my watch has already outlived me, lol, so I can live with the Carrera's more pedestrian 100meter depth. But I'm not even doubting my move to return the Grand Carrera in favor of the Carrera since I really didn't have the 4G's to dump on something like that, but, well, I really don't think I would ever pay that much more for the GC over the Carrera anyway as I prefer the styling of the Carrera more...I think. What about you?