If you have choosen a different page and you are being redirected to this page then MSN is at it again,
Please do not get discouraged, it will return to normal soon...
Thanks for your patience.
The message board is still open...
http://groups.msn.com/FurryAngelsFerrets/general.msnw
OR
---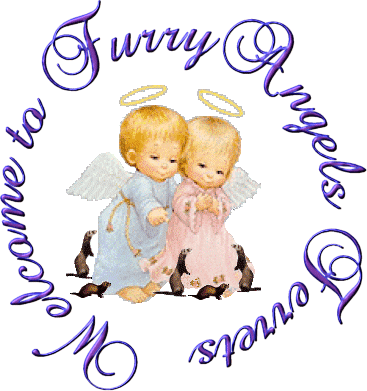 ---
FERRET MATH
One is good
Two are better...
lets get this right, down to the letter.
Three is crazy,
Four's the charm.
nothing else here, can be harmed.
Five is pushing,
Six the limit.....
I dont know, how I got in it???
Seven poopsters,
Eight's the MAX!!!
UhOh another FUZZ attack!!!
Have a wonderfully fuzzy day!
Furry Angels Lil Fuzzbutts welcomes you!
We are glad you stopped by.
You'll find lots of interesting things about ferrets here.
I've also included links to some of my favorite fuzzy sites.
There is a chat everynight of the week at one of our sites
Our Nights being Friday,
we always welcome new people and we love to chat
Feel free to browse around, and enjoy your visit.
your own fuzzie family :)