Welcome to Oswald's Bar & Grill.
Come in - feel free to spit on the mat and call the cat a bastard.
Don't forget to feed the Pokies and Happy Hour is 1700 to 0500.
Shots are a dollar and Pints are $3.00 The spa is $10 per half hour.
Barbeque on Saturday and Sunday at 2000.
Don't stick your finger in the Parrot's cage. The Bastard bites!
View all message boards within Oswald's Bar & Grill at once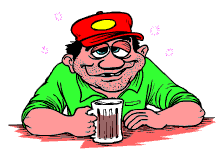 Go to - Pee-Pee-Bro's Hangi & Chips
Go to - Loñnytunes News Community
Go to - NZ News, Nonsense and Naughtiness!
New Zealand Earthquake & Volcano Activity
Tell us about yourself in our Member Profiles feature.