Welcome to our
"What's new page"
THIS PAGE WAS LAST UPDATED ON:
260827KDEC07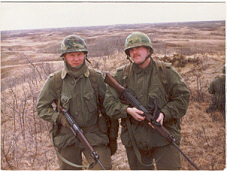 We thank all Members for your support since July 2002
Those T-shirts? Still on hold, sorry. Since that I am back from Iraq, hopefully we'll have someting sooner than later.
So watch for info on the L1A1 gear! Maybe hats, stubby holders to follow? Who knows.
1. The "L1A1 Armourer" is a website dedicated to the history and preservation of the "Inch Pattern" FN FAL rifle and Light Automatic Rifles known as the "Rifle, 7.62mm FN (C1)A1", "Rifle, Auto FN (C2)A1", "Rifle, 7.62mm L1A1", and "Automatic Rifle, 7.62mm L2A1".
2. In one model or another, used by England, Australia, New Zealand, and Canada, plus many other countries worldwide. We can even include the Indian Ishapore "Rifle, 7.62mm 1A1" bastardised version too!
3. C.A.L's FN (C1)A1 was in service from 1956-1990 in Canada, and the S.A.F.-L L1A1 SLR from 1959-1990 in Australia.
4. On this page you'll find the fol:
a) Brief summaries of the latest postings from our msg board and the latest pics too. Ensure you check 'em out.


b) Inside, you'll see Australian Army Ex's from Puckapunyal to Shoalwater Bay, and many albums of one of a kind pics of current and old equipment, including the SLR in L1A1 and C1A1 'configs', and misc FN FAL stuff too. So, add your own pics, or just have a squizz. This website is only as good as we all make it.

c) Also inside, you'll find current affairs, on topics such as "When Australian animals attack 1 and 2", and "International Terrorism" which effects us here, and from an Australian prospective at that.

d) Hey, nearly forgot, AASAM (Australian Army Skill at Arms meeting) photographs from 2002, 2003, 2004 and 2005! Just look inside.
5. Enjoy your visit. We'd like you to sign the guest book if you wan t to. be sure to have a squiz at the rules below:
a) No porn eh, or any links to it (you can find that on your own);

b) Absolutely, positively no spamming of any kind;


c) "Try" to keep the language semi decent;


d) No flaming, or attitudes

e) Don't worry, here there is no such thing as being 'politically correct', but remember, play nice and use your common sense, thats one thing we all have

f) You'll only get one warning, and no more. We will ban repeat ofenders quicksmart (4 so far) a

g) Also, no commercial advertising, MSN has us covered there we believe

Now about us......

Butch is based out of Southeastern Kentucky, USA, and Wes out of Bribie Island in south east Queensland in Australia.

We welcome anyone who has a passion for these great well built legendary and reliable rifles whether Military, Ex- Military, LEO, or Civvies , we hope you enjoy your visit. So, join if you would like, and spread the word about us.
7. This website is NOT affiliated with the Corps of R.A.E.M.E. or the Australian Army, or Australian Defence Force whatsoever.
NOTE:
"The views and opinions expressed on this website by it's members may not be that of the operators"
"The L1A1 Armourer"
Royal Australian Electrical and Mechanical Engineers
The RAEME badge - what does it mean?
"The horse forcene and chain are symbolic of power under control and the lightning flash of Electrical Engineering. The horse forcene also form part of the crest of the institution of Mechanical Engineering and, together with the lightning flash, is intended to mark the close relationship which exists between the electrical and mechanical engineers in both civil and military life. The globe is indictive of the impact of engineering on the world today"
Corps Motto
"Arte Et Marte"
(Latin for By Skill and By Fighting)