CLICK ON THE LINK BELOW TO FIND OUR NEW GROUP
http://DebbieLadybugsHouseofDollsandDesigns.aimoo.com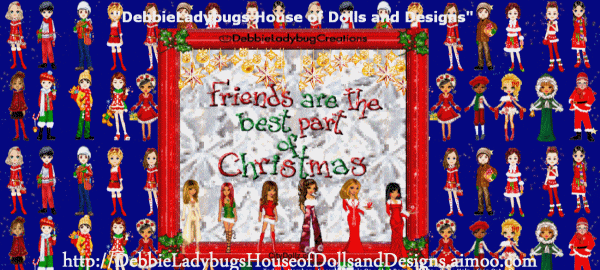 CLICK ON THE LINK ABOVE TO GO TO OUT NEW SITE. WE LOOK FORWARD TO SEEING YOU.
***********************
Welcome
To
FRIENDLY HOUSE
OF
DOLLS AND DESIGNS"
My dolls are posted on the left side of the board and if you would like something special just post a request on the request board and I will be happy to fix it up for you. Rules are posted under the Welcome Page on the left hand side of the board. Please read and sign.I dont have but 4 rules but would appreciate it if you would abide by them. Enjoy yourself and see ya on the boards.
DebbieLadybug
***********************
PLEASE DO NOT REMOVE CREDITS
THANKYOU
***********************
Assembled by: DebbieLadybug
♥♥BackgroundSetsByDebbieLadybug♥♥
tiles from: DebbieLadybugCreations and Cre8ive~Dezines~N~More
HTML courtesy of Aiya ©Cre8ive~Dezines~N~More