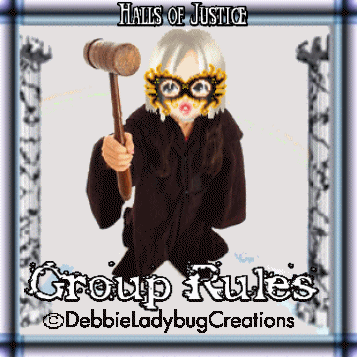 I didn't want to have to do this and I been putting it off for a while now but i'm going to have to post a few rules here.Please read them and sign the page on the general board when you have read them.
Thank you
********************
"GROUP RULES"
1--Please by no means post dating sites in this group.
2--Please do not post any pictures or tags that aren't G rated.
3--Please hide your email addresses.
4--Please do not steal the dolls. If you see one you like let me know so I can put the credits on it and then you can have it.
********************
These are all the rules I have in this group right now. More will be added if needed. I would appreciate your cooperation to keep this group a clean and safe group for all.
THANK YOU
DebbieLadybug
(owner/manager)
CLICK ON LINK BELOW TO SIGN
!!!!!!RULES--PLEASE READ AND SIGN!!!!!!
Please Do Not Remove Credits
THANK YOU
assembled by DebbieLadybug