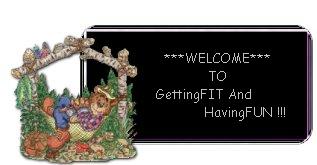 Come on in.

We are ALWAYS

Grab your WATER,take your shoes off, get comfy ....
And get ready to GET FIT and HAVE SOME FUN with some great friends here.
Check out the
NEWBIE NOOK
for great starting information....
We are looking forward to getting to know you better.
Jump in and stay as long as you like :)
HUGS :
We are
*NOTE*
The IDEAS within GettingFIT and HavingFUN are the sole ideas of the MANAGERS and our MEMBERS. If anything looks similar to other boards on the net...it is purely coincidental. We do not need others ideas to keep this an interesting place to visit.
Thank You
Zoo
-Manager
FastCounter by bCentral