Warning Begin|This rp may include some things that isn't stuible for young people.Sex, Violence and Curse words maybe in this rp. If you do not like any of that exit now. Otherwise enjoy the rp and contunie on! But all you whiners dont come complaing about the rp because you have been warned!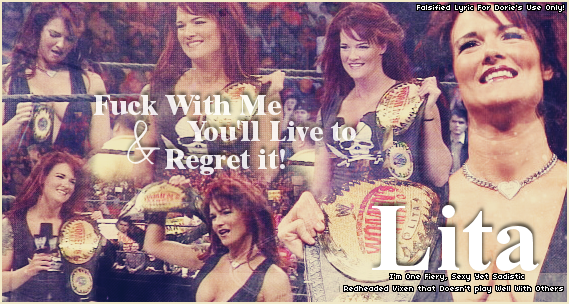 | Roleplay.Title | Here
| People Involved | Here
| Managing/Screwing | ????
| Next Bitch To Die | hehe
| TBCB | Here
| OOC | Here
|: The Sexiest Adams of them all..
Here you go Alli I hop ethat its to your liking, where the little icon is you have to ad your tron.
...Eryhen Adams-Reso:|
STAT PICTURE HERE

| Name| Here
| Theme | Here
| Allies | here
| Enemies| here
| Quote | here
| Finisher| here
| Disclaimer | This layout was made by ?? for ?? use only to use as ?? character ?? in the e-feds of her choice. Banner made by Falsified Lyric, and the layout was made by me and I do not expect to see my work in anyone elses hands. If you want one like it just ask, I don't approve of stealing. Everything is copyrighted to me so don't try to steal it or your in serious trouble. This is no way, shape, or form associated with the wwe Vince McMahon or Lita AKa Amy Dumas in any way. Respect my disclaimer and we will not have any problems. Thank You. (c)2006