[-[ Julianne is handed a microphone from Miss Shannon and begins to speak. ]-]
[[-Julianne Helmsley-]] Hunter, you want to play games...then I can play them better. If you think of even bringing that pyscho bitch Victoria around my son Peyton, try again! Right now my laywer is filing for a restraining order against Victoria being within 500 feet of Peyton. As far as your money goes, you better believe half is mine. You never filed a pre-nup before we got married so with the divorce I will be getting spose support as well as child support as well as 50% of everything you own! Hunter, I know everything I should be getting and I will get it. You think I'm money-hungry...think again! I simply want to make your life worthless and by taking MY son with me and half of everything I will be doing just that. At first, I didn't want Kurt to touch but now I'm thinking he will destory you. Just try to take Peyton, everyone knows that the mother will always get full custody unless I am seen as unfit, which I am not. And I will be damned if your little whore gets anywhere near my son. You want to fight with fire, then I've got some of my own.
[-[ Julianne bitch slaps Hunter. ]-]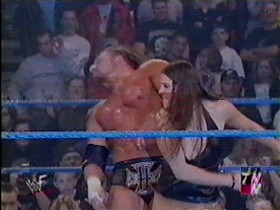 [[-Julianne Helmsley-]] YOU DESERVE EVERYTHING THAT IS COMING TO YOU!
[-[ Julianne then goes to leave the ring. ]-]