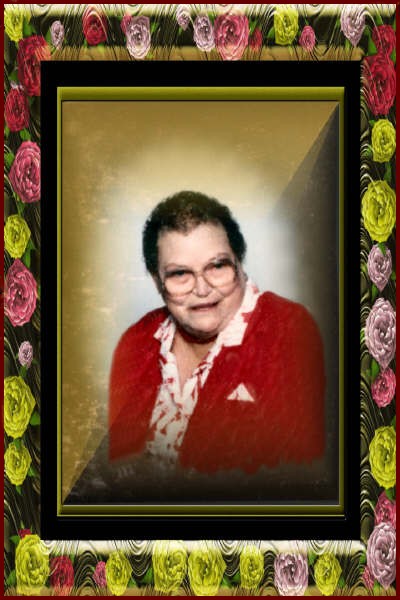 Nettie Mae Gober Lawson
Born November 4, 1920
Born at Melvin, in McCulloch County, Texas �during the horse and buggy era �to Rufus Smith Gober and Minnie Emmaline James. She is their eighth child, the baby and soul survivor of, their family.
She has a smiling heart, this lady of wisdom. She is a gifted Gospel Singer/Song Writer, and a Mother of 8. Nettie was age 70 in this picture, she still has her faith and trust in the Lord- and 6 surviving children, 38 Grandchildren, 40 Great Grandchildren, countless Niece's and Nephew's, all who love and adore her.
Now at age 81, she resides in Brownwood, Texas.
Her Grandfather, Jasper Elijah Gober, a native of Mississippi came to Texas in the late 1870's. He had nine children; Rufus was his seventh, who grew up in Texas. This is the story of his children, and how his love of God and family was handed down, generation to generation. A legacy of profound spiritual faith containing the nine characteristics of the "Fruit of the Spirit", which is Love, Joy, Peace, Longsuffering, Gentleness, Goodness, Faith, Meekness and Temperance:…A legacy that still lives today!

This is Nettie Mae's story of how she, "Dared To Be Different", through enduring Love and Faith in God, that was instilled in her as a child.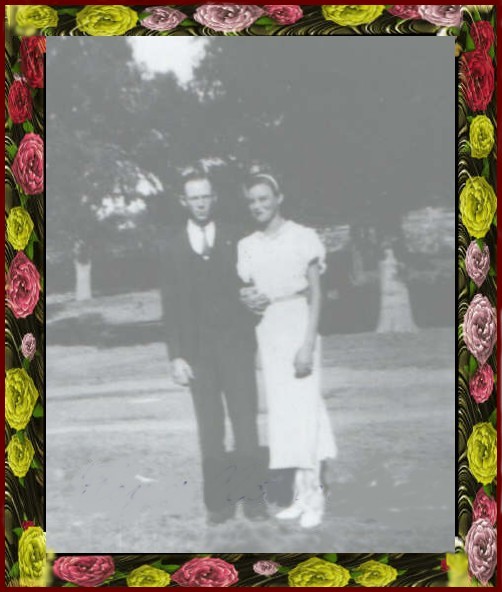 Mr. and Mrs. Foy Redden Lawson
Nettie Mae married Foy Redden Lawson November 7, 1934 in Brownwood, Texas. Foy Redden was born on August 25, 1912, in Mills County, Texas. The Lawson's (Pictured above, in the spring of 1934) made their home in Brownwood, and began building their house on Main Blvd. St. They started their family three years later. Their first born son, Jimmy Lewis Lawson born 1937 (a silent birth), in Brown County Texas. The couple was devasted by their loss. Clenging to each other, they kept their eyes on God and grew stronger in their faith in God and their love for each other.
With great courage, they faced many difficult times during the Great Depression, and Texas droughts, saying "the Lord will provide," and he did. The Lord blessed them with seven more children, whom they raised to trust and serve the Lord. They now have children, and grandchildren of their own. They continue to carry on this great legacy of love and faith.
Then on May 20, 1982, having fulfilled his calling here on earth and in the arms of an angel, our darling Husband, Father, Grandfather, and Uncle - Foy Redden Lawson entered Heaven's Gates, at age 69 - to live with the God he served all his life. This left a huge void in our lives, that can only be filled with his memory. His spirit and teachings still lives in our hearts today.
On September 21, 1988 - Nettie Mae's family faith is tested once again, with the tragic loss of their son, Kenneth Rufus Lawson - the victum of a hit and run driver -just a few blocks from their home. Once again Nettie Mae stood strong, even in her grief.
Aunt Nettie Mae has all the characteristics of the Fruit of the Spirit. She knows she will never have to cross Jordan alone - even through, the valley in the shadows of the deaths of her loved ones - because Christ will always be there with her. Likewise, she has always been there for all of us--her family.
This page is dedicated to Mrs. Nettie Mae Gober Lawson, with gratitude and love for all the wonderful Wisdom, Love and Happiness she has given us.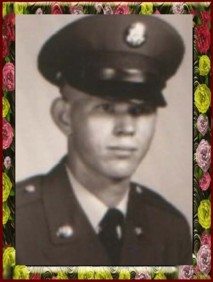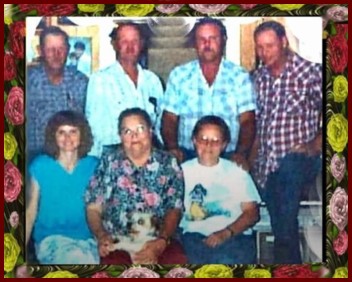 The Foy Redden Lawson Family
Photo on left: Kenneth Rufus Lawson, May 24,1947 - Sept. 21, 1988. Photo on right: (Seated left to right) Alma Ruth, Nettie Mae, and Virginia Mae. (Standing left to right) Foy Eugene, Homer Joseph, Damon Russell, and Paul Allen. They are the surviving members of Foy's family. (Puddles, was Gene's pet for 19 years).
You are welcome to come inside - we want to share this awesome lady with you. Prepare to be blessed.
"Fruits of the Spirit" ©Betty Rose Brown, 2-23-02

With a broken heart, she displays that same faith, strength and dignity we all have come to know and love. Nettie Mae now age 82, swallows yet another "Bitter-Pill of life," the loss of her oldest daughter, Virginia Mae (Ginger) Lawson Thrash. "Her precious daughter - Her best friend," at age 60 lost a long battle against cancer, but won her victory with Jesus in heaven on August 25, 2003. Ginger was laid to rest at Centerfit Cemetery - Lometa, Texas on August 31, 2003. As the sunset that day - in the Western sky, a huge beautiful rainbow appeared in the East. It was a gift to Ginger from God, but also, a reminder to the family that His love is sufficient for us all. @Betty R. Brown (excerpt) 9-6-03.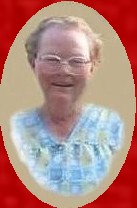 Ginger - June 4, 1943 - August 25, 2003
On Sunday, September 3, 2006, the world lost an angel. God had searched the world over to find the perfect person to complete a job, and when he came to Damon, he knew he had found his person. So, God took Damon's soul to heaven, for his work on earth was done.
Once again a cloud of sadness hovers over Nettie Mae, our family and friends. As the waves of grief wash over us all, Nettie Mae holds her head high and with a broken heart says, "Although I would never question God's master plan, I just don't understand why he would keep me here at age 85 and take my youngest son at age 51.�/FONT>
What can you say to a grieving mother at a time like this?
(A few days before the sudden massive heart attack took Damon Russell Lawson's life, he had visited his mother and told her that he had more faith in God and was closer to God than he had ever been in his life). I replied, "Aunt Nettie Mae, sometimes God will take us when we are the closest to him.�"I guess so�she said.
He was an angel to all who knew him. His laughter and singing, but most of all, his love �will be terribly missed.
Damon leaves his wife Rhonda Lawson, 3 Son's; Hays Redden Lawson (age 10), Damon Russell Lawson, Jr., and Dustin Ray Lawson. 3 Brother's; Foy Eugene Lawson, Homer Joseph Lawson, and Paul Allen Lawson. 1 Sister, Alma Ruth Lawson Woolfe. 1 Stepson, Paul Beam. Grandchildren; Olivia and Aurora Sky Lawson. Step-Grandchildren; Josiah and Jeremiah Beam. And numerous Nieces, Nephews, Cousins and friends.
Services were held at Netherton Funeral Home at 2 pm Wednesday September 6, 2006. The Chapel over flowed into the lobby with family and friends.
Damon was laid to rest at Cedar Point Cemetery, Brownwood, Texas.
We will always love you Damon, and cherish our special memories.
©Betty Rose Brown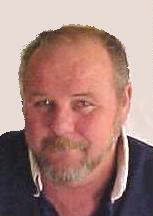 Damon - December 7, 1954 - September 3, 2006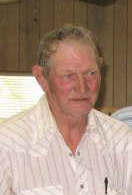 Gene - March 21, 1940 - April 17, 2007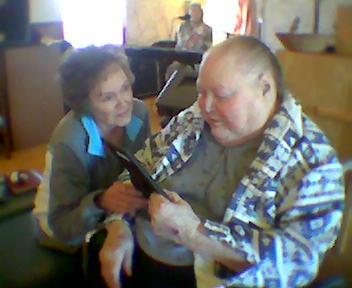 Nettie Mae Gober Lawson
(Picture taken April 1, 2007)
November 4, 1920 - May 8, 2007
(Story - yet to be completed)