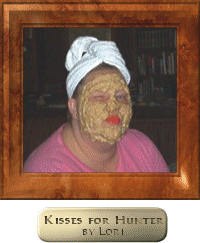 Our Special Exhibit features a classic piece by the noted Oatmeal artist Lori.
Her work is known throughout Haven for it's exquisite use of whole grains.
This fine piece entitled "Kisses for Hunter" was generously donated by the artist.
If you would like to donate a work of art to the Gallery please let us know
we'd be happy to hang it for you.
©Cheezy Graphics '02 for the exclusive use of Our Little Haven.