Our Awards
WINDZ AWARDS
FROM
1AWARD
2008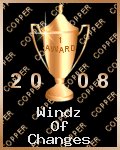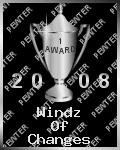 ~~~~~~~~~~~~~~~~~~~~~~~~~~~
Disability members, various illnesses and friends. We support and care for each member. In all times of need especially. Encourage to keep each other moving forward. Not to let the harsh windz blow them in the wrong directions.
~~~~~~~~~~~~~~~~~~~~~~
To receive an award we need these votes below:
10,000 votes - Platinum Award
5,000 votes - Gold Award
(review are written for gold award sites only)
2,500 votes - Silver Award
1,000 votes - Bronze Award
300 votes - Pewter Award
100 votes - Copper Award
~~~~~~~~~~~~~~~~~~~~~
I am so proud of everyone who has helped us get this far. You have stuck to it and I appreciate you all very much! Thanx!! True
~~~~~~~~~~~~~~~~~~~~~~
WE ALL SHOULD BE
VERY PROUD!!
Great work everyone!
A big thanx for
everyone's help.





True, Moki, Cheryl, Dar, Joan, Karen, Catz
MANAGEMENT TEAM