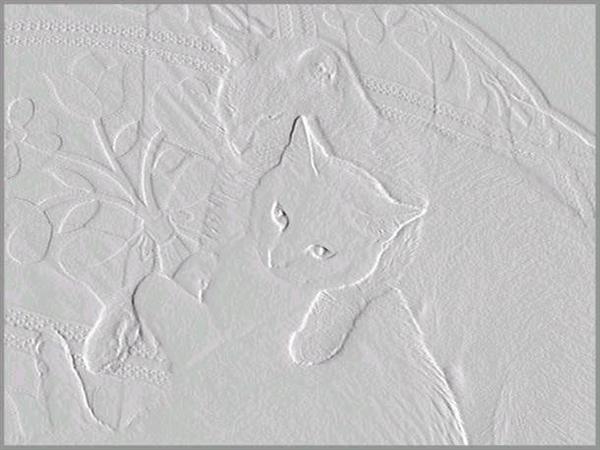 IKK Kritters Korner
IKK Members:
Share your photos and a short story of your kritter friends! E-mail them to me at janiebee45@hotmail.com and I'll post them for you. Click on the music icon above to listen to "Alley Cat" while viewing the photos.
---
The embossed photo above is Dee Dee, a five year old "Domestic" with golden eyes, being protected by, "The man of the house while Dad was out of town", her 11 year old blue eyed brother JR, a "Siamese".
Thanks to Carol L. for the nice backgound for this page.


| | |
| --- | --- |
| | Here is a pic of a couple of my Kritters! lol Jules is our 3 month old Siamese cat, she is very, very active. To say the least. All the way to climbing the curtains to jumping in the toilet bowl. DeAnn |
Her name is Lindsey's Meko Prissy Bear, a.k.a. Meko and sometimes "Munchkin". Meko is a cuddly, affectionate and lovable 6 year-old mini pom who is not - and I repeat - NOT spoiled in any way! he he he She is definitely and without a doubt Daddy's Girl!
~ Janie

**We lost our precious Meko.
Things are just not the same without her.


Meko
May 22, 1995 - June 6, 2004
P.J.'s Mokie and Bandit
This is two of my babies, my moma cat had six boys & each one was different. These two are Mokie (solid ) & Bandit (striped). P.J.

Gordon's "Feathered" Friends
Here is a pic (using my NEW Sony MVC-FD100). I Like it. Been waiting since Christmas for the new ones to hit the market. These are my back yard buddies. The white ones that is. The rest are their dinner guests.

| | |
| --- | --- |
| | Herb's pride and joy, Nicki!!! What a handsome friend! |
JIM's TURTLE UPDATE ~ June 24, 2002
The turtles are doing fine - coming to the back door and begging for food. Been feeding them melons but they really like frozen hamburger
meat (diced up in 1" cubes). They are not out much during the hot part of the day (been having 98 to 100 degrees with low humidity in late
afternoon). During this time of day, they normally burrow beneath the ground to keep cool. One of my favorite turtles has not been seen thus far this year - don't know whether he got out, died or just being elusive as most turtle are. Counting babies, have estimated about 20 plus at this time. Good pets, quiet, low maintenance, and good conversation subject while having visitors. JIP
Rosey's Cockatiel


Meet 'Mr. Beaker'!
Though he is a bird, (Shhhhh we have not told him that yet! LOL) He is such a talker! He is almost 2 years old and is building a vacabulary! (So far nothing bad LOL). His favorite thing to say is "I'm a chicken" then he will cackle like a hen singing. He will also play 'peek-a-boo' with you too. He is such a character. He is just one of the family! When supper time comes you better have a little bit set aside for him to! LOL
Stu and Pud - my daughters form of humor - you can yell STUPID and they will both come running..lol

...Kim B.
Kennedy is 13 years old as of May 5, 2003

~Kim B.
Here are some of our bunnies. They are much bigger now.

~Kim B.
This is Lucky enjoying a day off from work. Lucky is a therapy cat at

the nursing home where I work. The resident's get the biggest kick out

of his "laid back" approach to life. He loves commuting in the car with

me to work, and he walks on a leash and tolerates taking a shower/bath.

He is very much in demand and has brightened many a long face!
--Julie
These are my 4 month old babies,
Dottie and Oreo.

~Michelle S.
Margaret's Fox

This guy seems to think he is no
longer a guest in Margaret's house,
but a resident! He comes in whenever
he has a mind to and makes himself
quite at home!
He gets chicken twice a day - and
doesn't even have to raid the
henhouse!

...Submitted by Margaret Fox