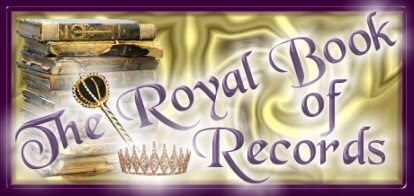 UNEASY LIES THE HEAD THAT WEARS THE CROWN
a potpourri of some of Britain's most unusual royal deaths

Edmund of East Anglia (869)
Edmund, who was later canonized & is the king remembered in Bury St.Edmunds, was cruelly murdered by the Danes. Actually, the Danish went for overkill in this happenstance. Poor Edmund was flayed; had an eagle carved into the flesh of his back; tied to a tree; shot to death with arrows; & then beheaded!
Sigurd I of Orkney (892)
This gentleman has the dubious distinction of being the only ruler known to have been bitten to death---by the dead! Following his defeat of Maelbrigte of Moray in the course of his conquest of much of northern Scotland, Sigurd strapped his opponent's decapitated head to his saddle as a sign of his triumph. As he rode, however, Maelbrigte's tooth rubbed against Sigurd's leg, causing a wound which turned septic & taking Sigurd out through blood poisoning!
Edmund II (Ironside) of England (1016)
This bit of fun was recorded by an uncited chronicler, disputing Ironside's death of supposed natural causes soon after signing his peace treaty with Canute. Allegedly an assassin hid under the king's privy, & when nature took its course, stabbed the king twice up through the bowels. He is the only ruler believed to have been murdered on the toilet! (though George II died of a heart attack while visiting Mr. Crapper)
Harald I of Orkney (1131)
Harald was co-earl with his half-brother, Paul. Harald's mother & aunt plotted to get rid of Paul & made a poisoned shirt. Harald's sibling rivalry roared to the fore when he saw that his brother had finer raiment than he, & he donned the garment. According to the Orkneyinga Saga, "his flesh started to quiver & he began to suffer terrible pain. He had to go to bed & it was not long before he was dead". Ooops!
Edward II of England (1327)
Recorded in the Holinshed Chronicle & gleefully whispered about by British schoolboys to this day, the story of how Isabella & Mortimer disposed of her unwanted spouse is a classic. Supposedly he was disembowelled by a horn being inserted through his anus through which a red-hot spit was inserted & wriggled about until he was dead. Ouch, that's gotta hurt!

source: British Kings & Queens: The Complete Biographical Encyclopedia of the Kings & Queens of Great Britain {paraphrased by ForeverAmber}
series 2002©ALL MY TUDORS
CROWN LINE FROM LADY DOROTHEA'S CELTIC CASTLE
ROYAL BOOK PURPLE BACKGROUND & HEADER©FOREVER AMBER