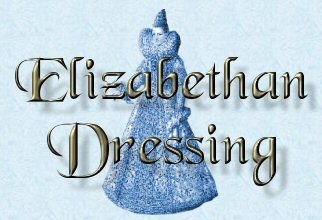 OVERVIEW OF AN ELIZABETHAN OUTFIT
by Drea Leed
There was a very wide variation in style between 1550 and 1600--indeed, the entire sillhouette of fashion transformed itself during the 50 year timespan. The variation between the clothing worn by the nobility and that worn by the common folk was almost as great.
In addition, there is a bewildering variety in English Elizabethan womenswear. Just like today, not all women dressed in identical outfits. What a woman wore depended on her age (older women preferred more traditional styles), background (rural noblewomen weren't privy to the latest London fashions), body type (some larger women may have worn styles that flattered their figure) and individual taste. in 1580, a woman could choose to wear a French gown, round gown, loose gown, night gown, doublet, Italian gown, and Flemish and Polish gown, just for starters. Therefore, I'm narrowing it down to one lady, at one time and place.
Meet Cecily Hawkins, a minor noblewoman living in London in 1575. She's going to Elizabeth's court today, and has decided to wear her most fashionable gown: A French gown, with a low, square neckline, a tight-fitting bodice, and a full skirt gathered to the waist.
Putting on an upper-class English Elizabethan gown is a complicated process, and when you include hair and makeup, can take half an hour or more. Several writers of Elizabethan times lampooned the extraordinary amount of time required for a woman to complete her toilette and dress. Phillip Stubbes' Rant on Women's Dress, written in the 1580s, is an entertaining & informative example.
Cecily has a number of servants to do her hair and put on her shoes after she dresses. If you are unfortunate enough to lack servants to help you dress, do your hair and put on any underwear, stockings and shoes before starting. Once you're dressed, these things will be much more difficult to do. Although the Elizabethan noblewomen didn't wear underwear per se, several modern re-enactors do; when wearing elizabethan dress in hot weather, shorts can prevent chafing.
After stretching and washing her face and hands, Cecily is ready to dress. Here we go!
PAGE GRAPHIX BY FOREVER AMBER