E-mail Settings
How to change/select how many messages (if any) are sent directly to your Email's Inbox:

First, click on the "Member Tools" link on the bottom left of the home page.
Next, click on "My e-mail settings."
You will be presented with the following choices:
Messages
Select how you want to read group messages.

E-mail sent to this group is added to the message board along with all messages that are posted there directly. In addition to being able to read this group's message board, you can have all messages forwarded to your e-mail inbox.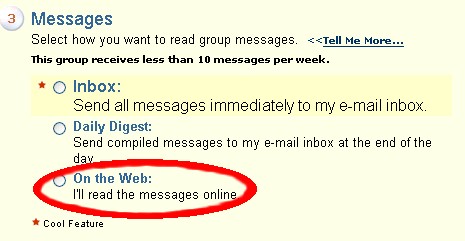 ****
This group receives an average of 147messages per day.******
Note: this is a lot of messages! If you'd like all the messages - great! - just select the top option and you are good to go... but, if you prefer not to potentially fill your inbox, simply select the "on the Web" option and read the boards online.

* However, (there is a third choice) if you'd like to receive some but not all the threads in your inbox, select the "on the Web" option as illustrated above, go to the threads you want to receive email from and simply select "send replies to my Inbox" from the top navigation bar and only those replies will be sent. The rest of the board can be viewed from the Internet (you can select new discussion threads too and opt-out of old ones).

Anyway, You know the bar I am talking about... See:


<NOBR>

</NOBR><NOBR>

</NOBR>
As, for your remaining settings:
* Group Reports: I believe the default is weekly, and it is a "what's new" on the board newsletter... you can change the option if you'd like
* Email Preference: If your brower supports it, I recommend using the HTML setting as the messages and board are filled with images and smilies!
If you continue to have technical problems or need a further explanation of the posting above, please contact me with the subject line "ATWT Email Settings Help" at rlehrer@hotmail.com and I will do my best to help!