ALL ABOUT HENRY...........
Trent Dawson (Henry, ATWT)
VITAL STATISTICS
Birthdate: February 4
Years On Show: 1999-present
Marital Status: Single
Children: None
BIOGRAPHY
Trent Dawson has been performing for as long as he's been walking �his mother started him on the stage early in his hometown of Baton Rouge, LA. But he tried to abandon the actor's life by studying for a year at Boston University. Then, he impulsively took off for Paris and ended up in Crete on the migrant worker circuit, where he made enough money to buy a guitar, which he used to entertain tourists while living on the street. He was camping out in Athens when he caught a showing of Mel Gibson's Hamlet. The Shakespeare shook him out of his aimless, wanderer phase. If that sounds like a wild tale, this gifted storyteller with a smart, wry wit has a hundred more like it. After making his way back to the States, he started at the University of Colorado's theater studies department, where he performed in the Colorado Shakespeare Festival and got so much stage-fighting experience that he started teaching it. He has since been in "about 20" of the Bard's plays, among other productions around the country, and also co-founded Blue Coat Repertory Company in 1996. When good friend Kim Rhodes (ex-Cindy, ANOTHER WORLD / AS THE WORLD TURNS), spoke so highly of her job on soaps, he started pursuing daytime himself. He then turned a two-week gig as a nefarious WOAK news director into a nuanced, naughty foil (and more) to Terri Colombino's Katie, who fans adore. Dawson, who finally earned a contract after six years on recurring status, continues to do theater on the side. He lives in New York City.
TRIVIA
—Is a major fan of The Lord of the Rings. He was in the J.R.R. Tolkien Fan Club as a youngster.
—Briefly appears in Steel Magnolias, wearing a top hat in Dolly Parton's church choir at the Christmas party.
—Nearly died from a misdiagnosed burst appendix in 2001.
CAREER HIGHLIGHTS
Other Soap Roles
GUIDING LIGHT (Priest, 1999)
Film Roles
Helene (Victor, 2000)
Theater Roles
Broadway
The Herbal Bed (Lane, 1998)
Other Stage Highlights
Way of the World (Mirabell, off-off Broadway, 1997)
An Evening of French Farce (off-off Broadway, 1997)
Altitude Sickness (off-off Broadway, 1997)
As You Like It (Orlando; New York City, 1998)
The Winter's Tale (Florizel; St. Petersburg, FL, 1999)
Cyrano (Christian; Lancaster, PA, 2000)
School for Scandal (Princeton, NJ, 2001)
Much Ado About Nothing (Claudio; off-off Broadway, 2001)
The Miser (Cleante; Rochester, NY, 2002)
Happy Birthday (Paul; The Estrogenius Festival, off-off Broadway, 2002)
Pal Joey (Joey; Philadelphia, 2002)
Loves Labour's Lost: The Musical (Berowne; off-off Broadway, 2003)
Misalliance (Johnny; Baltimore, MD, 2003)
The Miser (Valère; Baltimore, MD, 2004)
The Psychic Hour (Kevin; New York International Fringe Festival, 2004)
Lady Windermere's Fan (Cecil; Baltimore, MD, 2004)
MEMORABLE QUOTES
"I kept telling them that Henry's gay ... [He's] quoting from The Wizard of Oz and saying things like, 'You go, girl!' ... So I went to [Executive Producer] Chris Goutman and said, 'Look, if the guy's gay, that's fine. It's no big deal. That would be progressive.' And he goes, 'No, no, no. He's straight! Play the [subtext] with Katie.' " �Soap Opera Digest,7/11/00
"I went through a period where ... I got tired of people telling me, 'You deserve a contract.' It is a second-class citizenship, even after I've been there that long. If your ego is high and your self-esteem is low, it will affect you." �Digest, 9/30/03
OFFICIAL WEB SITE
www.trentdawson.com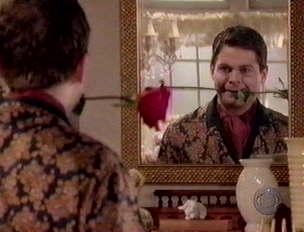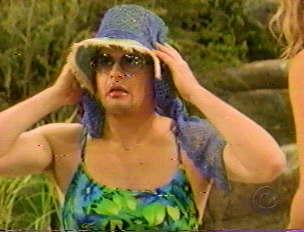 Sources: www.trentdawson.com; www.soapoperadigest.com; www.cbs.com/daytime/atwt