Welcomes you!!
We Gather in the light to share
with all who come.
Spiritual paths intertwine as we
each travel our path as
we are led and share knowledge
with all whose paths join ours
for a time in light and joy.
All are welcome to join this room
of Spiritual Light.
Wanting to join? Please Read:
When joining please provide a working email address. The email address will be checked and if it does not work then you will not be accepted as a member here. You must also state why you wish to join.
Thank you

Background by:

Graphics by:
Winds of Change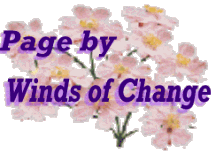 Counter reset 01/12/06
Visitor Count 21,033 since April 25, 2001 before reset.