Getting your Background.

As you all know, I've already explained how to 'Add a Background' So on this page, I'll concentrate on where to get a background, and how to copy it's URL (address)

The best place to get a Background, is out of a Photo Album, at one of the communities you belong to. There are many backgrounds, made by me, at my other group. These are all free to use. Just click the link below, and browse through the background albums

ALBUMS INDEX to find them

Berore you start working on your Editor Page, Follow the steps below.

1.. In the Blue Index Bar on the Left, click on Photo Album.

2.. Click on the name of the Album you want, locate the background, then click the thumbnail veiw to open it up

4.. Clicking on the 'thumbnail' opens up the background. You have to open it, or it will not work.

5.. Now 'right click' on it, in the blue box that appears, select 'properties'. Next, this box will appear,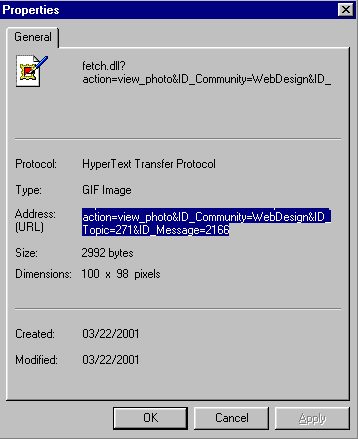 6.. Highlight the Address, (URL) and Copy it. (you can highlight the URL by right clicking on it, in the box that pops up, select 'select all', then right click again on the highlighted,(blue) area, and this time select Copy.) Another way to Copy, is to Hold down the 'ctrl' key and then press the 'C' key. ('ctrl&C')
7.. Now you have the Address, (URL) coppied, you can start to make your page. Follow the steps for Adding a Background, starting at Insert Table.
Have Fun Ladies!
Luv Jan x x
go to 'adding your background' tutorial