Lipstick Lesbian or Lesbian Ladette?
(femme or butch?)
Okay, so most of you lovely ladies don't need a silly test to work out what you are, but what about you 'inbetweenies'? This foolproof test will reveal all!
Have a go! It can't hurt!
1. You are 5'5" tall, you put on your shoes, how tall are you now?
A: 5'9".
B: Still 5'5".
2. Your bathroom shelf contains?
A: Toothpaste & Brush, Shampoo & Conditioner, Shower gel, Facial cleanser, Facial toner, Facial scrub, Mud mask, Peel off mask, Body moistureiser, Body scrub, Ten or so Aromatherapy oils, Assorted bath crystals, e.t.c, e.t.c, e.t.c.
B. Toothpaste & Brush, Shampoo, Shower gel.
3. You're meeting your mates at 8pm, what time do you start to get ready?
A: 4pm.
B: 7.45pm.
4. Pockets are important, when buying clothes, because?
A: You never buy anything with 'hip' pockets, it adds 2 inches to your hips!
B: You need plenty of pocket space, where else are you going to carry your keys, money, cigs, e.t.c.
5: Your monthly hairdressing bill comes to?
A: £40-£60.
B: £3-£5.
6. There's a mile long queue in the ladies, but it's okay because?
A: You've got a compact mirror in your bag.
B: The men's is empty.
7. A week away camping means?
A: You have to rent a trailer for the back of the car, so you can pack all the things you can't live without, full length mirror, the entire contents of the bathroom shelf, bags and bags of make up and skin care creams, hair dryers, curling tongs, hair straigtner, shavers, epilady, e.t.c, e.t.c.
B: Relaxing, away from the hustle and bustle of the city.
8. You've just been to the bar and bought your usual drink, as you pick it up, your hand?
A: Wraps almost all the way around the glass, your fingers nearly touching.
B: Barely goes half way round the glass, and you've got big hands.
9. At the night club, you always position yourself at the highest level because?
A: After all the effort it takes to get ready, you want to make sure everyone sees you dancing.
B: It's the best place to clock the babes, it's time to decide who the lucky lady will be tonight.
10. You're getting your first tattoo, what do you choose?
A: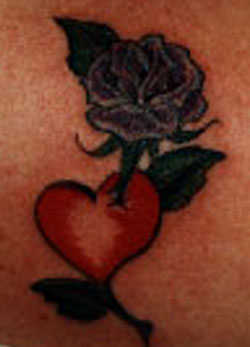 B:
11. And where do you get the tattoo?
A: On your hip.
B: On your shoulder.
12. What peice of jewelery do you prefare?
A: a diamond, or dangly heart
B: a stud, spike or bullet
13. And what do you get peirced?
A: Your belly button/nose.
B: Your eyebrow/chin/tongue.
HOW DID YOU SCORE?