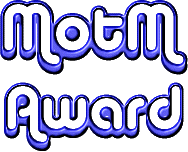 Every month, one of the members will be awarded the "Member of the Month" Award.
You can vote for the person you want to win, by clicking the link below.
All the votes will be counted at the end of each month. Vote for someone who has been a friend to you, for someone who has given you advice or support.
It is you, the members, who decide who will win the award, so please make sure you vote.
How to Vote:
On the 'voting page' click, "add vote" then in the spaces given, write the name of the member who you want to vote for.
At the end of the month, I will add up all the votes, and announce the winner. You will be able to see how everyone is doing, by adding up the votes yourself.
No one can see who you vote for, unless you write your own name in the 'reason for voting' box.