Due to broken links and trouble accessing our custom made pages, Late to it Lesbians no longer has its own city scene guide.
However, we do have a page full of links leading to some of the best scene guides, UK and worlwide, that the net has to offer.
We also have our 'ADD TO THE SCENE GUIDE' pages, where members can add thier favorite clubs, bars, cafe's, shops, anything gay.
It's easy to use. Check the screen shot below
1... click here to add a bar, club, cafe, etc.. then fill in each category with as much detail as you have, the more the better.
2... looking for a bar??? click 'TOWN OR CITY' and everything in that row will fall into alphabetical order, making it easier to find what you are looking for.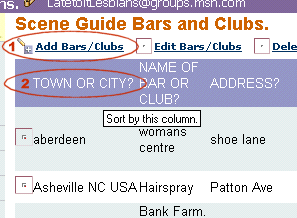 These are our only 'on site' guides now, so please do your best to add the bars in your area.
To add BARS or CLUBS, CLICK HERE.
To add SHOPS or CAFE'S, CLICK HERE.
Thanx for your co-operation
hugs janx
late to it lesbians