Faeries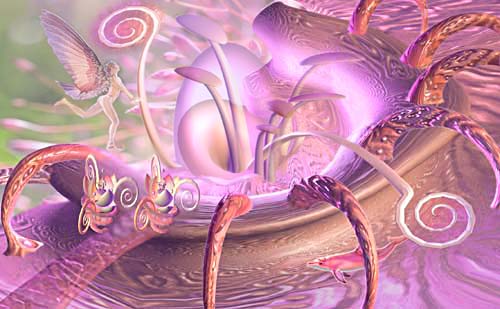 Faeries are a bit of a toss up when it comes to describing them. I was first introduced to the idea of faeries when I was a very small child and watched Peter Pan, starring the cute little Tinkerbell. I don't know how many hours I spent seeking out a faery of my own so I could fly to never never land. After being told there was no such thing as faeries you can imagine my delight when, after all these years, I have come across them again and realized that my five year old mind had it right.
There are many different opinions on where Faeries come from. The most common reference I found for them was the belief that faeries were in fact the souls of the departed. Nature spirits the protectors and caretakers of the forest.
They can be good and bad, they can help or they can destroy. They are quite set in their ways and will not be taken for granted. You must thank them for any help they may have provided, or you will be made to realize the error of your ways. Hence the term "Knock on Wood".
"Knock on Wood" is in essence an acknowledgement that the faeries are being kind. By failing to do so the faeries might just withdraw their aid, which could bring about a disaster of one kind of another.
Blessed Be.
Autumn Rain