Candle Magick Tips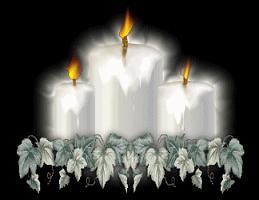 I thought this page would be useful to those of you that are into candle magick. Just some little tips to make your magick more powerful and to get the best possible results.
Pick the right color for the results you are trying to achieve. When in doubt or if you don't have the right color handy then white works with all.
Pick the Day of the week. Each day is dedicated to a different purposes. There is a guide on the sidebar to help you with this. Sunday is a good day for anything.
It is very important to properly prepare your candles before use. To do this you first have to cleanse them. This is an easy task. All you have to do is to take some rubbing alcohol and a cotton ball and rub from the bottom up. This send any negative energy away from the candle and away from it.
The next thing you want to do is to take a ritual tool (it could be something as simple as a toothpick or a stickpin) and carve small symbols into it that represent the goal you are trying to achieve.
If you are using an oil to annoint the candle with then you have to decide if you are trying to draw something to you or cast it away. Drawing to you would mean to start from the top and rub down to the bottom all the way around the candle. If you are trying to cast something away then you want to start at the bottom and move to the top.
Cast your circle! You can do this with whatever you are comfortable using, your athame, wand or even your finger. They all work just as well. I sometimes just picture the circle in my mind. There is no special technique to this. This is something you can use your instinct on and it will be fine.
Once this is all done then you want to concentrate on your goal, say a chant or a charm while you are lighting your candle. I find that using wooden matches instead of lighters seems to work better and make more sense. You are using things from the earth to element to start your flame.
Let the candle burn as long as you need to. You can use small candles and let them burn out completely all at once or you can use a big candle and use it several times over. When using the bigger candles always remember that once it has been specified for one purpose then it can not be used for another. You can use them as long as you need to letting them burn a couple of hours each night even if it is not the night you started this purpose on. Even if your goal is attained you can still burn the candle for a lasting effect.
That's about it! Candle magick is an easy way to get started in magick and you'll find that once you do this once or twice you will see the benefits of this type of magick!
If you have any questions please feel free to ask!
by LadyBeast ©