Kitchen Witchery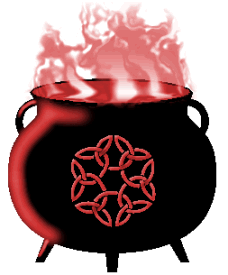 Kitchen witchery is a natural art, all it takes is the food in your cupboards and your own personal magick - that which everyone posesses deep within. Unfortunately, most people don't realize that everytime you eat something, you are consuming energy, and not just that which keeps you going.
For instance, did you know that a handful of walnuts brings protection, a bar of chocolate attracts love, a dash of sage aids good health, or that a sprinkling of black pepper will purify?
Have you ever noticed that after eating something, you feel differently. You might be tired, feel kind of sluggish, or you will finally get that second wind, a slight burst of energy. The food has changed you, or rather the energy of that particular morsel has. It's when you take this energy and consciously work with it, that kitchen witchery comes into play.
There are so many possibilites out there for this kind of magick. Take the birthday cake for example. Why do we have one, if not to celebrate another year come with happy birthday wishes. Or maybe that chicken noodle soup you make for a loved one, do you not spend the time wishing for their well-being while cooking, there by transferring your energy into that of the food.
As Scott Cunningham put it, "Food is a force for magickal change", we only have to but use it.
Blessed Be.
by Autumn Rain