YOGA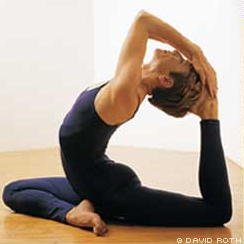 For the mind, body and soul
I have been a firm believer in yoga for quite some time now, there is simply no better way, for me, to relax and let go of all the tension that I have accumulated in the course of one day. I thought I would do a little introduction here and then you will be able to find more information over on the Yoga by Autumn board.
Yoga has been around for more than 5000 years. It was created to bring the practitioner greater personal freedom, health and long life, and heightened self-understanding. The term Yoga stands for "to join or yoke together", as it brings the body and mind together, in perfect harmony.
The yoga system is made up of three structures: Breathing, exercise and meditation. Regular practice of all three parts produce a clear, bright mind and a strong, capable body.
There are numerous different schools of yoga, I am going to describe only a few here, but this is just the tip of iceberg, so to speak.
This is only a breif description of yoga and all that it has to offer us. There is so much information on it and I honestly think every single person will benefit from incorporating some form of yoga into their daily routine. Not only will it help clear the mind of unwanted stress and worries, it will make for a much healthier lifestyle.
by Autumn Rain