Gardening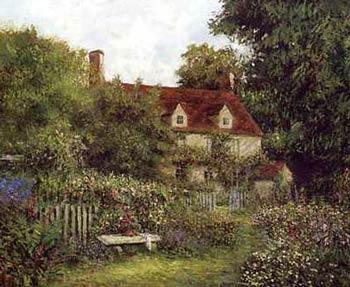 Gardening is the most effective way to get in touch with nature. Imagine watching your magickal flowers and herbs grow! Right in front of your eye's! The most basic tools for the craft are from the earth, many spells and charms main ingredients are from the earth and learning to grow them right in your back yard, well nothing is more satisfying or exciting. There is a lot of reading regarding this subject along with information on use and spellcrafting with plants and herbs.
A Garden Blessing
Through the seasons of rain, sun, and snow,
May these plants and herbs happily grow,
Winter to spring and summer to fall,
Lord and Lady bless them all.
By Ellen Dugan
by Skyblue Saille
For more information on magickal gardening here are some books on this topic!
Garden Witchery by Ellen Dugan
$16.95
This book cantains much information on how to make your own magickal garden right in your own yard. It covers many topics on trees, plants and flowers that you already may have growing there. Learn how to attract faeries to your garden and make your own spells with herbs that you can grow yourself. I have sold many copies of this book and it is highly recommened by all that have it!
Bud, Blossom and Leaf by Dorothy Morrison
$14.95
This is the magickal herb gardeners handbook. This book contains everything you need to know about herbs form the magickal to the mundane. Very good book! Dorothy Morrison is a great author and easy to understand. I love reading her books.
You will also find gardening books in the feng shui series and the almanacs!
If you would like any of these books please contact me at