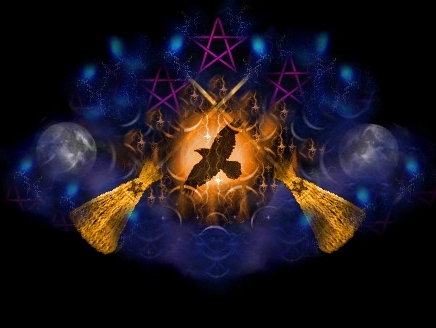 A TRUE HISTORY OF WITCHCRAFT
©Copyright 1992 by Allen Greenfield. All rights reserved.

"The fact is that the instincts of ignorant people invariably
find expression in some form of witchcraft. It matters little
what the metaphysician or the moralist may inculcate; the animal
sticks to his subconscious ideas..."

Aleister Crowley
The Confessions

"As attunement to psychic (occult) reality has grown in
America, one often misunderstood and secretive branch of it has
begun to flourish also -- magical religion..."
J. Gordon Melton
Institute for the Study of
American Religion, Green Egg, 1975




"Curse them! Curse them! Curse them!
With my Hawk's head I peck at the eyes of
Jesus as he hangs upon the cross
I flap my wings in the face of Mohammed &
blind him
With my claws I tear out the flesh of the
Indian and the Buddhist, Mongol and
Din..."

Liber Al Vel Legis 3:50 - 53

"Previously I never thought of doubting that there were many
witches in the world; now, however, when I examine the public
record, I find myself believing that there are hardly any..."

Father Friedrich von Spee, S.J. , Cautio Criminalis, 1631


I use the word `mythology'in this context in its aboriginal meaning,
and with considerable respect. History is more metaphor than factual
accounting at best, and there are myths by which we live and others
by which we die. Myths are the dreams and visions which parallel
objective history. This entire work is, in fact, an attempt to
approximate history.


To arrive at some perspective on what the modern mythos called,
variously, "Wicca", the "Old Religion", "Witchcraft" and
"Neopaganism" is, we must firstly make a firm distinction;
"witchcraft" in the popular informally defined sense may have
little to do with the modern religion that goes by the same
name. It has been argued by defenders of and formal apologists
for modern Wicca that it is a direct lineal descendent of an
ancient, indeed, prehistoric worldwide folk religion.

Some proponents hedge their claims, calling Wicca a "revival"
rather than a continuation of an ancient cult. Oddly enough,
there may never have been any such cult! The first time I met
someone who thought she was a "witch," she started going on
about being a "blue of the cloak." I should've been warned
right then and there. In fact, as time has passed and the
religion has spread, the claims of lineal continuity have
tended to be hedged more and more. Thus, we find Dr.
Gardner himself, in 1954, stating unambiguously that some
witches are descendants "... of a line of priests and
priestesses of an old and probably Stone Age religion, who have
been initiated in a certain way (received into the circle) and
become the recipients of certain ancient learning."
(Gardner, WITCHCRAFT TODAY, pp 33-34.)

Stated in its most extreme form, Wicca may be defined as an
ancient pagan religious system of beliefs and practices, with a
form of apostolic succession (that is, with knowledge and
ordination handed on lineally from generation to generation), a
more or less consistent set of rites and myths, and even a
secret holy book of considerable antiquity
(The Book of Shadows).

More recent writers, as we have noted, have hedged a good deal
on these claims, particularly the latter. Thus we find Stewart
Farrar in 1971 musing on the purported ancient text thusly:
"Whether, therefore, the whole of the Book of Shadows is post-
1897 is anyone's guess. Mine is that, like the Bible, it is a
patchwork of periods and sources, and that since it is copied
and re-copied by hand, it includes amendments, additions, and
stylistic alterations according to the taste of a succession of
copiers...Parts of it I sense to be genuinely old; other parts
suggest modern interpolation..."
(Farrar, WHAT WITCHES DO, pp34-35.)

As we shall discover presently, there appear to be no
genuinely old copies of the Book of Shadows.
For Next Page