Page 2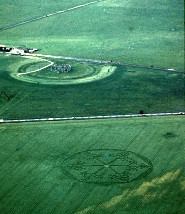 Crop circles appear with amazing regularity in the same fields year after year. Here is an example at Stonehenge, where this snowflake pattern appeared in June 1997 in the same field as the 1996 Julia Set above. Stonehenge is the second most popular tourist attraction in Britain (after the Tower of London) and it is probably no coincidence that crop circles have been associated so frequently with this site.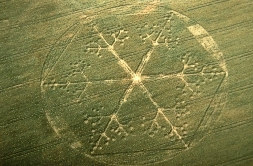 This intricate hexagonal figure confounds the mind when it comes to figuring out how it was constructed. I wonder if it's just a coincidence that the diameter of the enclosing circle of the Snowflake is equal to the diameter of the Trilithon circle at Stonehenge? Remember, there is twenty-four hour a day security surveillance at Stonehenge, and no one has ever seen the actual formation of any of the circles which have appeared there.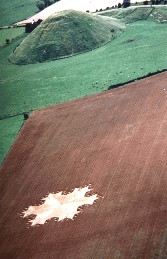 In July 1997 crop circles returned to Silbury Hill. This amazing fractal indicates the complexity that is used in the construction of these sacred crops. Notice the intricate weave of the 'lay' of the crop.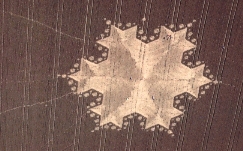 The following two crop circles also appeared in 1997 and are of special significance: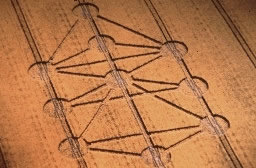 This Kabbalistic symbol is unfortunately presented to us upside-down. It is called the Tree of Life, a symbol found in many countries around the world. Notice the hopscotch pattern. Many occult teachings have been handed down in children's' games.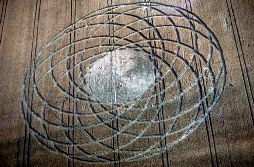 This 'bagel' made of twelve circles is remarkably three-dimensional. This shape is called a Torus. It is also the shape of a black hole and of our galaxy.
As you can tell from the dates of these crop circles, they have not been a major focus of mine recently. They certainly remain interesting phenomena; as they do not dowse the same for me as sacred space, I have side lined them for present. While some are undoubtedly built by the hand of man, I do not believe that all of them are, so they remain a mystery.
© 2006 Sig Lonegren