Uluru is considered once of the great wonders of the world.
Ayers Rock is a large magnetic mound large not unlike Silbury Hill in England. It is located on a major planetary grid point much like the Great Pyramid in Egypt.
Uluru (also Ayers Rock or The Rock) is a large rock formation in central Australia, in the Northern Territory. It is located in Uluru-Kata Tjuta National Park, 350 km southwest of Alice Springs at 25 degrees 20' 41" S 131 degrees 01' 57" E. It is the second-largest monolith in the world (after Mount Augustus, also in Australia), more than 318 m (986 ft) high and 8 km (5 miles) around. It also extends 2.5 km (1.5 miles) into the ground. It was described by explorer Ernest Giles in 1872 as "the remarkable pebble".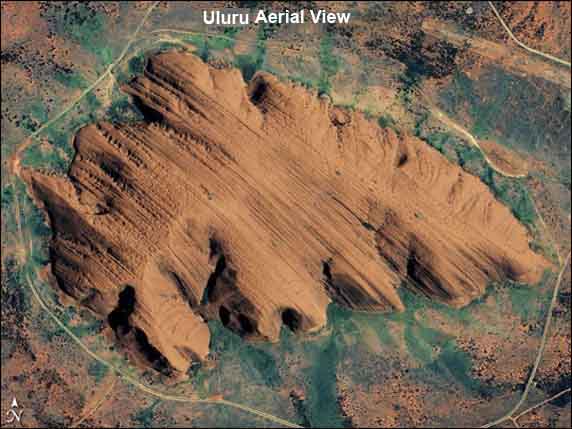 Kata Tjuta National Park is owned and run by the local Aboriginals. The Australian government handed ownership of the land back to the Aboriginals some years ago.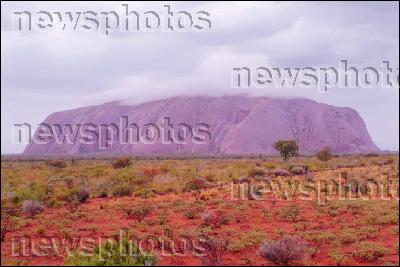 Uluru went from red to violet on 1 June 2004,
waterfalls on the rocks causing the color change.

Ayers Rock was named for the Premier of South Australia, Sir Henry Ayers. It extends down over 3 and a half miles beneath the surface.

Approximately 500 million years ago it was part of the ocean floor at the center of Australia. Some report that there is a light source emanating at various times of the year. Most likely this can be explained scientifically.
Climbing Uluru - The local indigenous community request that visitors respect the sacred status of Uluru by not climbing the rock, with signs posted to this effect. In 1983 the former Prime Minister of Australia, Bob Hawke, promised to respect the request from the community that climbing Uluru be prohibited, but broke his promise when title was handed to the traditional owners in 1985 because access for tourists to climb Uluru was made a condition before they could receive the title. The climb crosses an important dreaming track, which has been a cause of sadness and distress among traditional owners. Neverthless, they are unable to prohibit climbing, and climbing Uluru is a popular attraction for a large fraction of the many tourists who visit it each year. A rope handhold makes the climb easier, but it is still quite a long and steep climb and many intended climbers give up partway up. There are several deaths a year as a direct result of climbing the rock, mainly from heart failure.