Ares

Athena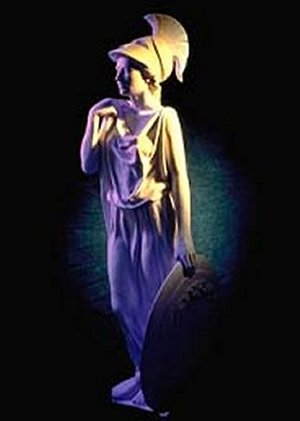 Athena is the daughter of Zeus. She sprang full grown in armour from his forehead, thus has no mother. She is fierce and brave in battle but, only wars to defined the state and home from outside enemies. She is the goddess of the city, handicrafts, and agriculture. She invented the bridle, which permitted man to tame horses, the trumpet, the flute, the pot, the rake, the plow, the yoke, the ship, and the chariot. She is the embodiment of wisdom, reason, and purity. She was Zeus's favorite child and was allowed to use his weapons including his thunderbolt. Her favorite city is Athens. Her tree is the olive. The owl is her bird. She is a virgin goddess.
Apollo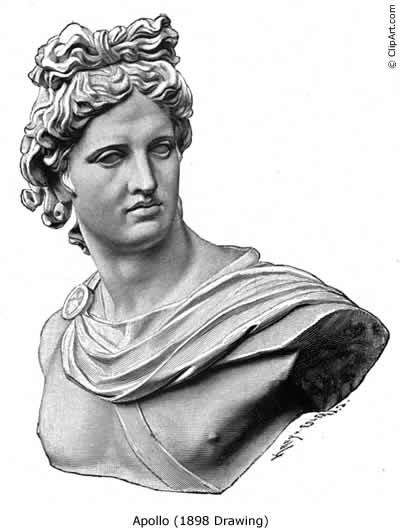 Apollo is the son of Zeus and Leto. His twin sister is Artemis. He is the god of music, playing a golden lyre. The Archer, far shooting with a silver bow. The god of healing who taught man medicine. The god of light. The god of truth, who can not speak a lie.
One of Apollo's more importaint daily tasks is to harness his chariot with four horses an drive the Sun across the sky.
He is famous for his oracle at Delphi. People travled to it from all over the greek world to devine the future.
His tree was the laurel. The crow his bird. The dolphin his animal.
Aphrodite
Aphrodite is the goddess of love, desire and beauty. In addition to her natural gifts she has a magical girdle that compels anyone she wishes to desire her. There are two accounts of her birth.
One says she is the daughter of Zeus and Dione.
The other goes back to when Cronus castrated Uranus and tossed his severed genitles into the sea. Aphrodite then arose from the sea foam on a giant scallop and walked to shore in Cyprus.
She is the wife of Hephaestus. The myrtle is her tree. The dove, the swann, and the sparrow her birds.