What are Runes?
Runes are divination tools. They are an ancient Nordic alphabet that when carved into wood or stone can be used for insight much like tarot cards. Unlike Tarot, there are only 24 Runic letters, plus one blankstone (which technically isn't a Rune but is often used for divination purposes), which makes a complete set of 25.

Each stone or wood chip is merely a symbol representing an ancient concept. Its interpretation and significance in modern life is entirely up to the reader. Their readings are fluid extensions of the reader and querent. Therefore, no two rune readings will be alike.
Where did Runes come from?
Developed by Nordic and Germanic tribes, the Runes have religious and secular uses. They serve as an alphabet and a series of religious symbols commonly used in divination. "Rune" comes from the Nordic word "Run" which means "Secret".

In legend, Odin, lord of death and rebirth, hung on the world tree, Yggdrasil, for nine nights and days to conceive the Runes. In a Tarot deck, "The Hanged Man", a card of a man hanging upside down on a tree hoping to trade his foolishness for wisdom, was inspired by Odin. In fact, all of the Tarot deck was influenced by the earlier Runes. (Thanks goes to Black Shadow for this information!)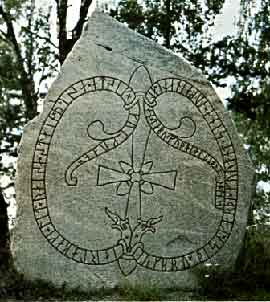 This is the eqivalant of the "Rosetta Stone" for Runes. It is one of the oldest Rune tablets known to be in existance.
How Do You Read Runes?
Each Rune has a unique meaning which is influenced by its position, its placement in a Runecast, and its relationship to other Runes in the cast. Each Rune has an individual meaning which can be used as a reminder or charm, but can also be interwoven into Bind Runes, a combination of several individual symbols.
There are a couple different ways to cast the Runes. One is to place all of the Runes face side down on a covered surface like a table, swirl them clockwise with your hand while concentrating on your question. Then you can pick them one by one and put them into a layout like the Celtic Cross or Ask The Norns. Another way is to draw the Runes one by one out of a bag while not looking at them. Alternatly, you can spill them out of a bag one by one. The rule of thumb here is to do what feels right to you. Remember that the power of the Runes comes from inside you more than from the ritual itself.
It's been my personal experience that drawing them out of the bag works great for me but when I'm doing a reading for someone else I usually have them swirl the stones.
Always keep in mind that Runes have no specific meaning other than that you, the reader, assign to them. The above meanings are simply my interpretation as taken from other guides and my own experiences.
© Copywrite Coolwaters 2006
Assistent Manager
For more information on Runes,
And please share if you know more about this!