Introduction to Black Holes
What is a black hole?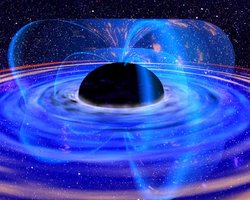 A black hole is a region of spacetime from which nothing can escape, even light.
To see why this happens, imagine throwing a tennis ball into the air. The harder you throw the tennis ball, the faster it is travelling when it leaves your hand and the higher the ball will go before turning back. If you throw it hard enough it will never return, the gravitational attraction will not be able to pull it back down. The velocity the ball must have to escape is known as the escape velocity and for the earth is about 7 miles a second.
As a body is crushed into a smaller and smaller volume, the gravitational attraction increases, and hence the escape velocity gets bigger. Things have to be thrown harder and harder to escape. Eventually a point is reached when even light, which travels at 186 thousand miles a second, is not travelling fast enough to escape. At this point, nothing can get out as nothing can travel faster than light. This is a black hole.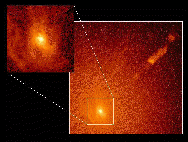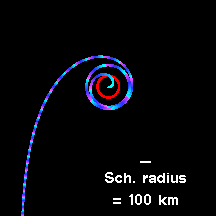 Do they really exist?
It is impossible to see a black hole directly because no light can escape from them; they are black. But there are good reasons to think they exist.
When a large star has burnt all its fuel it explodes into a supernova. The stuff that is left collapses down to an extremely dense object known as a neutron star. We know that these objects exist because several have been found using radio telescopes.
If the neutron star is too large, the gravitational forces overwhelm the pressure gradients and collapse cannot be halted. The neutron star continues to shrink until it finally becomes a black hole. This mass limit is only a couple of solar masses, that is about twice the mass of our sun, and so we should expect at least a few neutron stars to have this mass. (Our sun is not particularly large; in fact it is quite small.)
A supernova occurs in our galaxy once every 300 years, and in neighbouring galaxies about 500 neutron stars have been identified. Therefore we are quite confident that there should also be some black holes.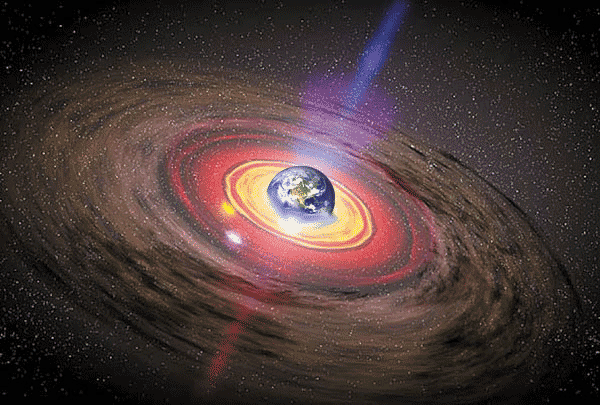 History
The concept of a body so massive that not even light could escape from it was put forward by the English geologist John Michell in a 1783 paper sent to the Royal Society. At that time, the Newtonian theory of gravity and the concept of escape velocity were well known. Michell computed that a body 500 times the radius of the Sun and of the same density would have at its surface an escape velocity equal to the speed of light, and therefore would be invisible. Although he thought it unlikely, Michell considered the possibility that many such objects that cannot be seen might be present in the cosmos.
In 1796, the French mathematician Pierre-Simon Laplace promoted the same idea in the first and second edition of his book Exposition du Systeme du Monde. It disappeared in later editions. The whole idea gained little attention in the 19th century, since light was thought to be a massless wave, not influenced by gravity.
In 1915, Einstein developed the theory of gravity called General Relativity. Earlier he had shown that gravity does influence light. A few months later, Karl Schwarzschild gave the solution for the gravitational field of a point mass, showing that something we now call a black hole could theoretically exist. The Schwarzschild radius is now known to be the radius of a non-rotating black hole, but was not well understood at that time. Schwarzschild himself thought it not to be physical.
In the 1920s, Subrahmanyan Chandrasekhar argued that special relativity demonstrated that a non-radiating body above a certain mass, now known as the Chandrasekhar limit, would collapse since there would be nothing that could stop the collapse. His arguments were opposed by Arthur Eddington, who believed that something would inevitably stop the collapse.
In 1939, Robert Oppenheimer and H. Snyder predicted that massive stars could undergo a dramatic gravitational collapse. Black holes could in principle be formed in nature. Such objects for a while were called frozen stars since the collapse would be observed to rapidly slow down and become heavily reddened near the Schwarzschild radius. However, these hypothetical objects were not the topic of much interest until the late 1960s. Most physicists believed that they were a peculiar feature of the highly symmetric solution found by Schwarzschild, and that objects collapsing in nature would not form black holes.
Interest in black holes was rekindled in 1967, due to theoretical and experimental progress. Stephen Hawking and Roger Penrose proved that black holes are a generic feature in Einstein's theory of gravity, and cannot be avoided in some collapsing objects. Interest was renewed in the astronomical community with the discovery of pulsars. Shortly thereafter, the use of the expression "black hole" was coined by theoretical physicist John Wheeler. Prior to that time, the term black star was used occasionally. The latter term appears in an early episode of Star Trek, and was still used occasionally after 1967. This is because some people found the term "black hole" obscene when translated into French or Russian, for example.
Authors Unknown